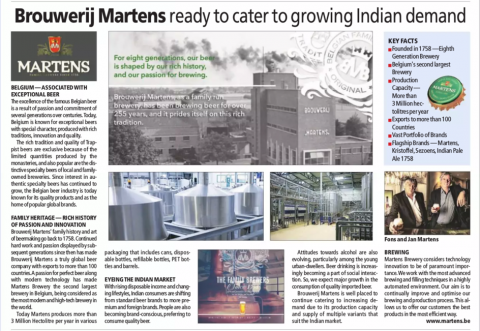 Brouwerij Martens ready to cater to growing Indian demand
BELGIUM - ASSOCIATED WITH EXCEPTIONAL BEER
The excellence of the famous Belgian beer is a result of passion and commitment of several generations over centuries. Today; Belgium is known for exceptional beers with special character, produced with rich traditions, innovation and quality. The rich tradition and quality of Trappist beers are exclusive because of the limited quantities produced by the monasteries, and also popular are the distinctive speciality beers of local and family-owned breweries. Since interest in authentic speciality beers has continued to grow, the Belgian beer industry is today known for its quality products and as the home of popular global brands.
Family heritage - rich history of passion and innovation
Brouwerij Martens' family history and art of beermaking go back to 1758. Continued hard work and passion displayed by subsequent generations since then has made Brouwerij Martens a truly global beer company with exports to more than 100 countries. A passion for perfect beer along with modern technology has made Martens Brewery the second largest brewery i Belgium, being considered as the most modern and high-tech brewery in the world. Today Martens produces morte than 3 million hectolitre per year in various packaging that includes cans, disposable bottles, refillable bottles, PET bottles and barrels. 
Eyeing the indian market 
With rising disposable income and changing lifestyles, Indian consumers are shifting from stand beer brands to more premium and foreign brands. People are also becoming brand-conscious, preferring to consume quality beer. Attitudes towards alcohol are also evolving, particularly among the young urban-dwellers. Beer drinking is increasingly becoming a part of social interaction.So, we expect major groth in the consumption of quality imported beer. Brouwerij Martens is well placed to continue catering to increasing demand due to its production capacity and supply of multiple variants that suit the Indian market. 
Brewing
Martens Brewery considers technology innovation to be of paramount importance.We work with the most advanced brewing and filling techniques in a highly automated environment. Our aim is to continually improve and optimise our brewing and production process. This allows us to offer our customers the best products in the most efficient way.
Key facts
Founded in 1758 - 8 generation brewery
Belgium's second largest brewery
Production capacity: more than 3 million hectolitres per year
Exports to more than 100 countries
Vast portfolio of brands
Flagship Brands - Martens, Kristoffel, Sezoens, Indian Pale ale 1758
Full article: 
http://epaper.indianexpress.com/m5/1896391/Delhi/November-15,-2018#page/19/1
http://epaper.financialexpress.com/m5/1896295/Delhi/November-15,-2018#page/23/1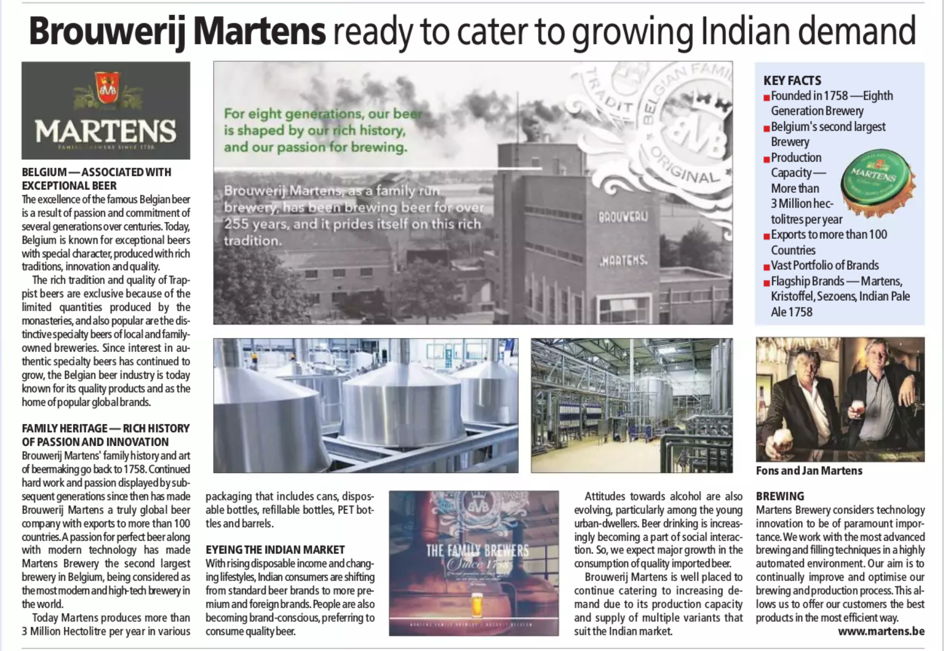 User login